---
---
Temperature Flexibility
The Vane has precise temperature control from 200F to 480 degrees Fahrenheit, or 93C to 250 degrees Celsius. This is a good range of temperatures for the extraction of your herbs, in fact, it's a little on the hot side.
I would recommend not going over 230C/ 446F. The great thing about precise temperature control is that a higher temperature is not a problem at all.
You can switch between Fahrenheit and Celsius by pressing the power button and the up button simultaneously.

Vapor Quality
The vapor quality of the Yocan Vane is okay. It's nothing to write home about, but it gets the job done. The airflow is decent, allowing you to take some deep rips off of the device if you have the lung capacity.
It takes about 30 seconds to heat up, but I would wait a couple more seconds to get some powerful vapor. It has a ceramic heating chamber and is a convection device, making the flavor actually pretty good.
It is small, and can't really pump out a serious amount of clouds, however, the flavor on lower settings is not bad at all.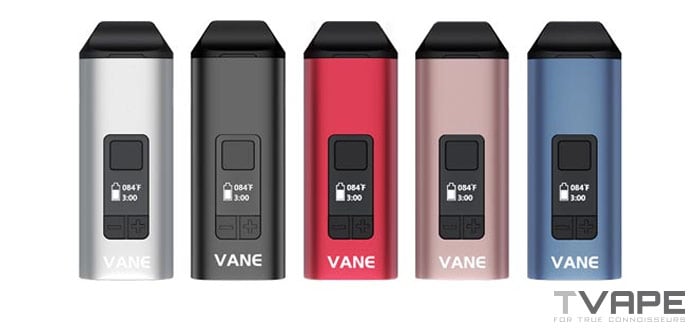 Once you get into the hotter settings, however, the vapor is a little irritating on your throat. I will say again that I wouldn't go over 230C/446F because you can definitely combust in this little device if you're not careful.
The biggest recommendation I have is not packing the Vane too tight, as it is very easy to overpack and clog your device.
If you keep it low and take a long, slow, deep draw you can get some good results though.
If you like a more free-flowing, convection device, certainly check out the Utillian 620.

Manufacturing Quality
The Yocan Vane like most Yocan devices, passes but really isn't anything special. The device is small, which is great for the purpose of having a low key on-the-go vaporizer.
The OLED screen gives you all the information you need to know, set, and current temperature as well as battery life and session timer. The only thing I will say is that the display is not super bright, and is mildly difficult to see in bright sunlight.
Again, I would say that Yocan has checked all of the boxes, but hasn't really done anything super innovative with this device. I like the small touches of haptic feedback, a magnetic mouthpiece, and the OLED screen. Other than that, there's not a lot to talk about.
The biggest thing I like about it is the size factor, easily palpable for a quick session anywhere you are.
If you like a more premium feeling device with nice touches like a glass mouthpiece and airflow control, definitely check out the Utillian 421.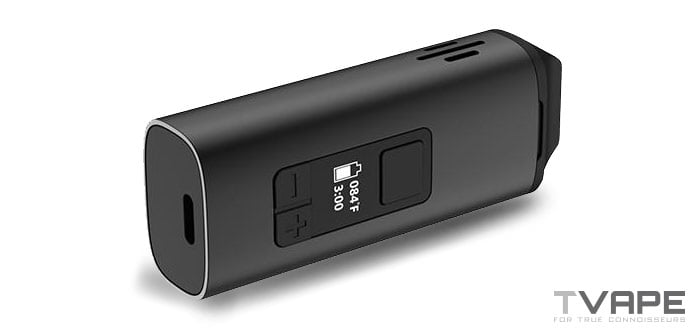 Battery Life
The Yocan Vane has a 1100mah internal battery with a USB-C charging port. It's not bad, and I do like the USB-C charging, I'm glad the industry as a whole is heading in that direction.
Users that prefer a battery that can last you all day should check out the ZEUS Arc GT, with it's 3000mah battery it can keep going with the best of them.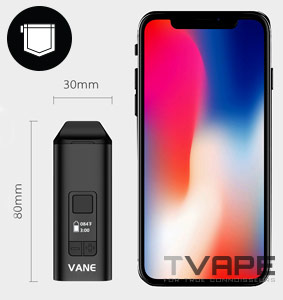 Portability
The Yocan Vane is a great portable partner for any trip you're on. It slips in any pocket or bag with ease and fits in your hand – even if your tiny-handed friend Jim attempts to palm it.
The 1100mah battery definitely leaves something to be desired, as you can't really take this out for more than half a day of use.
I would highly recommend buying a portable charger if you plan to take this guy out on the town – That battery life is the only thing holding you back from taking this on overnight camping trips and the like.
For a night out and about, the Vane is solid, but I'd say if you like something with enough juice to last you more than a night out, I would recommend something with a little bit more battery life, like the Utillian 722.

Ease of Use
The Yocan Vane is easy to use with 5 taps to turn the device on, 3 to change temperature, and a press and hold to start heating. Cleaning has been made pretty simple as well, as Yocan has made the ceramic filter in the mouthpiece removable.
It's nice to see companies putting thought into the cleaning of their devices, as I feel this is one of the most neglected aspects of a vaporizer.

Discreetness
This is where the Yocan Vane shines. As I stated, it is incredibly small and fits in your hand easily. You can definitely even fit it in that "don't lose stuff" pocket inside the pocket of your jeans.
It heats up in about 30 seconds, allowing you to take a quick rip and then stash it away again.
Overall Experience
The Yocan Vane is a decent unit, but Yocan isn't really bringing anything new to the table with this one. As Yocan releases a large number of units per year, it is safe to say we can expect another iteration of a similar device soon.
For the price point, the Yocan Vane is okay, but it might be worth saving a couple of extra bucks and buying something a little more expensive that has all the coveted features some budget units on the market offer now like the Utillian 620.
---